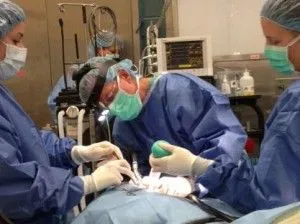 Surgical Options For Your Pet
The entire veterinary team at Salem Valley Veterinary understands that the decision to have your beloved companion undergo surgery is never an easy one and can be stressful. It is our goal to ensure the entire process goes smoothly and that your pet's procedure is as comfortable and stress-free as possible.
The most important pre-surgical step is to discuss why we believe a particular procedure is necessary and what it entails. Our veterinary team will communicate with you regarding proper pre- and post-operative care and answer any questions you may have so that you feel comfortable knowing you are making the right choice for your pet.
We regularly perform many types of surgeries, including but not limited to:
• Spay and neuter
• Tumor removal
• Gastrointestinal
• Dental
• Orthopedic
• Soft tissue
Anesthesia and Monitoring
Prior to anesthesia and surgery, your pet receives a thorough exam by the veterinary surgeon and pre-surgical blood tests are performed. The results of these tests and your pet's past anesthetic history, breed, pre-existing conditions, and age are used to create an individualized anesthesia protocol.
We closely monitor your pet during the procedure and recovery process. Advanced monitoring equipment tracks parameters that include oxygen concentration in the blood stream (pulse oximetry), carbon dioxide, electrocardiogram (ECG), blood pressure, heart rate, respiratory rate, and body temperature.
Pain Management For Your Pet
We practice the most up-to-date pain management protocol. We administer pain medication prior to surgery so it takes effect before your pet awakens from the anesthesia. For acute and chronic conditions, we use all our available and safe resources, including NSAIDs (non-steroidal medications), local anesthetics, and narcotic pain relievers for the complete comfort of your pet.
Postoperative Care
As your pet is being discharged you will be provided with detailed written and verbal information on how to properly care for you pet at home after surgery. We are also happy to answer any questions or concerns that may arise once you get your pet home.
Please do not hesitate to contact us if you have any questions or would like additional information regarding the surgical services we offer.